Detaljer

Kategori: Sport
Senest opdateret: Lørdag, 22 marts 2014 07:10
Publiceret: Tirsdag, 18 marts 2014 09:07
Skrevet af John Stæhr
58 år bag kameraet:
OL-sejleren Hans Fogh er død i Canada 14. marts 2014
Ol-sølvvinderen i  Flying Dutchman 1960, Hans Fogh er død i Canada den 14. marts 2014. Efter kort tids sygdom, det oplyser en  medarbejder i firmaet Fogh Marine i Toronto. Han blev 76 år.
Hans Fogh døde af Creutzfeldt-Jakob Disease, ifølge den officielle pressemeddelelse (læs den nederst på siden). Creutzfeldt-Jakob Disease er en meget sjælden hjernesygdom - kun ca. 6 danskere dør af den om året. Sygdommen er kendt som BSE - som kan smitte fra oksekød (kogalskab).
Oplysninger om begravelse - donationer mv. nederst på siden (engelsk).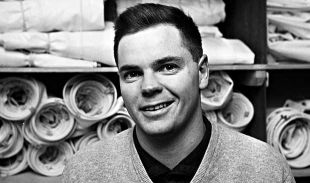 Jeg fotograferede Hans Fogh i 1964 - for 50 år siden.
Foto: John Stæhr 
imagesfile.com
Hans Fogh vandt sølvmedalje sammen med Ole Gunnar Petersen ved det Olympiske Lege i 1960. Hans Fogh lærte sejlmageri hos  sejlervennen Paul Elvstrøm. Men i 1969 emigrerede han til Canada. Hvor han startede Fogh Sails, som igen senere blev til North Sails Canada. Endvidere drev han virksomheden Fogh Marine, som hans søn Morten overtog for nogle år siden.
Så sent som i 2006 blev Hans Fogh verdensmester i Soling. Det blev til deltagelse i seks Olympiske Lege. Fire OL-deltagelser for Danmark, hvor han vandt OL-sølv i Flying Dutchman i Napoli 1960, og to OL-deltagelser for Canada, hvor han vandt OL-bronze i Soling i Los Angelos 1984.
Læs mindeord her:
http://www.hellerupsejlklub.dk/index.php/da/alle-nyheder/545-hs-medlem-hans-fogh-er-dod
http://www.sejlsport.dk/nyt/2014/03/mindeord-hans-fogh
Oplysninger om begravelse - donationer mv. (engelsk):
Visitation will be held on Thursday March 20th, 2-4pm and 7-9pm at Turner & Porter (Peel Chapel), 2180 Hurontario Street, Mississauga ON, L5B 1M8.
A funeral service will be held on Friday March 21st at 3pm. The location will be confirmed shortly. Check
www.turnerporter.ca
for location.
Donations to the Hans Fogh Endowment Fund, administered by Ontario Sailing (
www.ontariosailing.ca
) or to The Dorothy Ley Hospice (
www.dlhospice.org
) would be greatly appreciated.
Den officielle meddelelse om Hans Fogs dødsfald  (engelsk):
Hans Fogh
March 8, 1938 – March 14, 2014
It is with great sadness that we announce Hans Fogh passed away peacefully from Creutzfeldt Jakob Disease on March 14, 2014 in Toronto. A fighter to the end, Hans leaves Kirsten, his beloved wife and safe harbour for 49 years, his two sons, Morten (Debbie) and Thomas (Andrea) and his darling grandchildren, Sarah, Curtis, Marcus, Kaia and Lucas with whom he spent many joyful hours as "Farfar" attending their numerous special events. Hans is also survived by his family in Denmark, brother Jens Christian, sisters Gitte (Esben) and Annegrette (Christian). Hans leaves behind a niece in Canada, Pia (Danny) daughter of his late sister Inger (John Eastwood)
Born in Copenhagen, Hans has had one of the most exemplary competitive sailing careers ever, winning numerous Worlds, European, North American and National titles in several classes including the Soling, Finn, Flying Dutchman, Star and Etchells.
Hans came to Canada with the encouragement and support of long-time friend, Paul Henderson, who managed to lever Hans' former career as a gardener to become a sailmaker. Hans went on to build one of the most successful sail lofts in the world under the Elvstrom, Fogh and North banners. His involvement in the development of the original Laser sail and the subsequent Laser Radial sail are only the beginning of his many well-known accomplishments in the sport.
Hans' competitive sailing career was influenced by his close friend and mentor, Paul Elvstrom. His career spanned seven decades from his first in the late fifties, to his last race earlier this year with his bronze medal crew John Kerr and his godson Johnnie Kerr. Hans enjoyed sharing his sailing with his family. He was able to coach his sons as they entered the sport, then shared the 1984 Olympics with his oldest son Morten and was able to compete in 2 Olympic trials with his youngest son Thomas. Hans was most joyful helping his grandchildren learn to sail.
A six-time Olympian, he won his first Olympic Silver Medal with Ole Erik Gunnar Peterson in Rome in 1960 for his native Denmark. In 1984, 24 years later, he won a Bronze Medal in Los Angeles, representing Canada with crew John Kerr and Steve Calder. Hans was extremely proud that he won a medal for his home and adopted countries. Hans also won a Pan Am Games Silver medal in 1987.
Throughout his career, Hans enjoyed giving back to the sport he loved: coaching, mentoring, training and developing sailors at every opportunity. This was definitively evidenced by the many lives he touched and the countless letters of remembrances from sailors and friends that have given the family so much strength.
Recognizing Hans Fogh's contribution to the sport of sailing, he has been inducted into the Canadian Sports Hall of Fame, Canadian Amateur Sports Hall of Fame, Etobicoke Sports Hall of Fame and the National Marine Manufacturer's Association Canada Hall of Fame, including a number of other awards he has received over the years.
The family would like to thank Doctors Patel, Borgundvagg, and Houston and the team at Mount Sinai Hospital, Mary Keeber and the team at The Dorothy Ley Hospice for their outstanding care and support.
Visitation will be held on Thursday March 20th, 2-4pm and 7-9pm at Turner & Porter (Peel Chapel), 2180 Hurontario Street, Mississauga ON, L5B 1M8.
A funeral service will be held on Friday March 21st at 3pm. The location will be confirmed shortly. Check www.turnerporter.ca for location.
Donations